Sunday 20 June 2010 was our formal 'good-bye' to Greg and Shirley.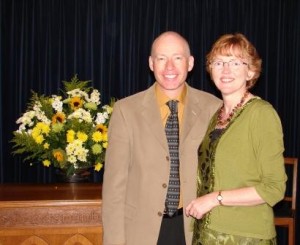 During the service Brian Waring, Society Steward and Alan Gray, Circuit Steward, presented Greg and Shirley with a gift from the congregation; a cheque and a beautiful painting that Greg and Shirley had chosen themselves, to remind them in the days to come of their time in Sydenham.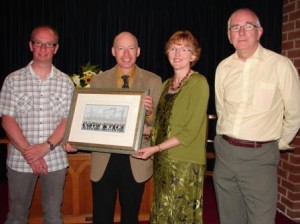 Greg and Shirley kindly gave the congregation a delightful rose bush to be planted in the church garden.
Kidzone gave a gift of a 'bird' paper weight and Greg got his very own 'Build-a-bear' along with a suggestion that it may be used in some future children's talk. The children of Kidzone and the young people of Focus had written down memories of, and comments about Greg. These were shown in a powerpoint presentation accompanied by some very artistic drawings of Greg complete with hair and stripey shirts!
A superb lunch was attended by over 150 people. This was an opportunity to relax and chat and for everyone to sign a large card to Greg and Shirley. It will take them quite a while to read all the comments! Have a look at some more photos in the gallery.
Many grateful thanks have been expressed to Greg and Shirley for their time and ministry with us over the past 7 years. They will be sadly missed and we pray God's blessing on them as they move on to their new churches in Coleraine and Ballymoney.